We recently had the opportunity to visit Santa's Enchanted Forest in Miami and we cannot believe that it has taken us so long to do so! Now in its 35th year, Santa's Enchanted Forest is "the World's Largest Holiday Theme Park with over 100 rides, shows, games and attractions." And, not only is it home to South Florida's tallest Christmas tree light show, there are millions of dazzling lights, hundreds of themed displays, festive Christmas music, delicious foods from around the world, live show entertainment and carnival rides suited for the entire family.
As soon as you enter the park you are greeted with a dazzling light display that stretches along a long boulevard consisting of truly enchanting Christmas displays, brilliant lights and giant Christmas trees. See Santa's fishing village, visit outer space, stop at Santa's train depot and more and more and more; there are hidden surprises around every corner! And if that weren't enough, at the end of the corridor you reach a huge carnival with every ride imaginable to suit all of the kids and big kids in your family. We had a blast and our kids could not stop smiling, just check out our video review below. 
We visited the park on a Friday night and while it was never too crowded, we do recommend heading down early so that you can avoid traffic and enter as the park opens. We were able to check out all of the lights and displays and then ride dozens of rides without waiting. Put this on your Christmas bucket list or give tickets to the kids for Christmas, they will not be disappointed! 
Santa's Enchanted Forest is located within Tropical Park at 7900 SW 40th Street, Miami, FL 33155. The park opens each day 5:00 and it runs through January 7th. Do not miss it!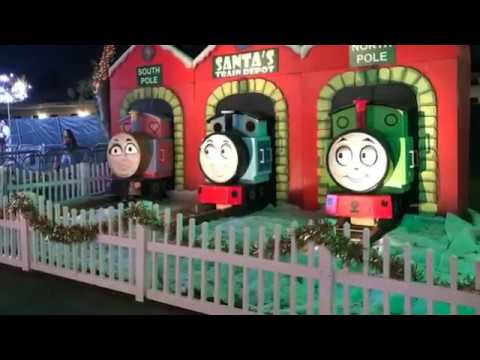 The author and her family were provided tickets and compensation for the purpose of this review, but all opinions are those of the author. All photos and videos were taken by the author.