Jupiter Christian School is committed to excellence in teaching the mind, reaching the heart, and inspiring servant leaders who will impact the world for Jesus Christ.
East Campus Open House:
PK2 - 1st Grade
Saturday, October 27th
9:00AM-11:00AM
125 S. Pennock Lane, Jupiter, Florida
West Campus Open House:
2nd - 12th Grade
Saturday, November 10th
9:30AM-11:30AM
700 South Delaware Blvd., Jupiter, Florida
The East and West Campus administrative teams, faculty members, and student ambassadors are looking forward to meeting you.
RSVP is appreciated, but not required for open house: admissions@jupiterchristian.org.
Excelling
JCS offers a Christ-Centered, liberal arts curriculum marked by academic excellence, innovation, and creativity; we assist students in developing the knowledge and abilities that characterize critical thinking and a love for life-long learning. JCS offers an education rooted in the authority of scripture, the supremacy of Christ, and a Biblical worldview that presents all truth as God's truth.
Nurturing
We disciple students toward a genuine, unshakeable, and mature faith in Jesus Christ. We celebrate the diversity of gifts, talents, and abilities found in our community and assist students in identifying and developing their God-given gifts and talents for the glory of God. JCS believes each student is uniquely created by God and encourages mutual respect, promotes Christian love, and provides motivation to resolve conflict in a peaceable and Biblical manner. As a family unified in Jesus Christ, we should be known by our love for one another.
Engaging
JCS fosters a culture of student learning and achievement. We embrace a diverse and a collaborative community, modeling engagement in our neighborhoods, cities, nation, and the world as we seek to love, serve, and lead others. JCS promotes citizenship and community involvement through school-wide benevolence ministries and community service programs. JCS students are well prepared to positively impact the world for Christ.
To learn more about Jupiter Christian School, visit their website, https://www.jupiterchristian.org/, or call (561) 746-7800. Jupiter Christian School West Campus for grades 2nd through 12th is located at 700 South Delaware Blvd. in Jupiter and the East Campus for PK2 through 1st grade is located at 125 S. Pennock Lane, Jupiter.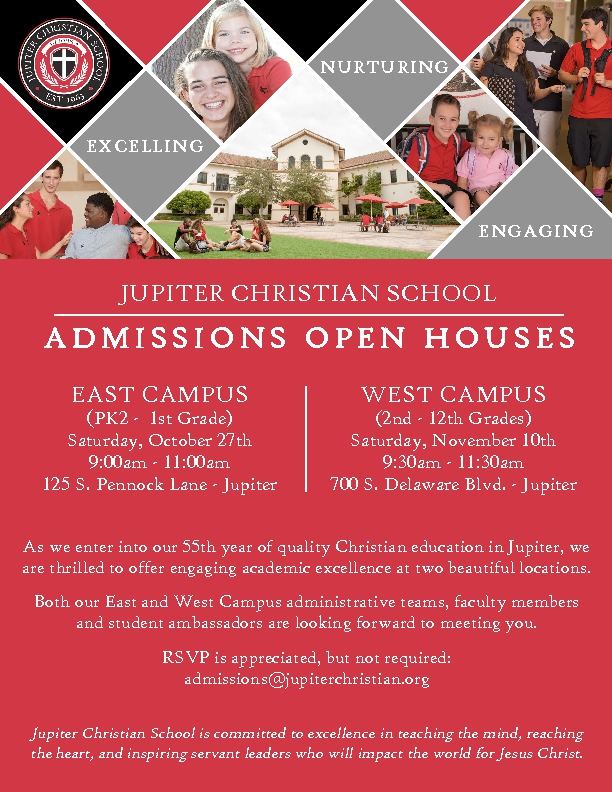 We are proud to present Jupiter Christian School as a sponsor of Macaroni Kid Palm Beach Gardens.