Do you know a child who loves to sing? Do you catch your child or grandchild singing to themselves or when they think you're not watching? If so, you need to sign them up for an audition with Young Singers of the Palm Beaches!
Young Singers of the Palm Beaches (YSPB) is an inclusive choral community where young people join together to create inspiring singing experiences. Their mission is to teach life skills through choral music by giving children an atmosphere of artistic excellence where they develop teamwork and leadership skills and form supportive relationships with fellow singers and adults. YSPB is comprised of singers in grades 2 – 12. Students receive instruction in music theory, vocal technique, and performance skills.
| | |
| --- | --- |
| | |
Audition registration is now open for the 2021/2022 season. Auditions will be on your choice of either August 4th or August 14, 2021. Auditions are important, to see the true interest of the child. Auditions are held in a small group format for younger children, and in a private 10-minute audition for older singers. Requirements and audition techniques can be found on their website, divided into all of the grade levels, which includes practice music and accompaniment as well. Visit www.yspb.org/audition to register and learn more.
There is a tuition fee associated with joining the choir. Through its financial assistance and scholarship programs, Young Singers is committed to reaching all children who want to sing, regardless of their ability to pay.
Young Singers reaches into the community, spreading the love of music and acting as local ambassadors through concert performances and by collaborating with local artists and cultural groups like the Palm Beach Opera and the Palm Beach Symphony.
Young Singers is housed at the Kravis Center for the Performing Arts in West Palm Beach, where weekly rehearsals and concerts are also held. The 2021-2022 Season starts August 22, 2021, and YSPB has its annual holiday concert scheduled for December 11, 2021.
Inquiries can email information@yspb.org, or visit their website at www.yspb.org to find more information about the choir.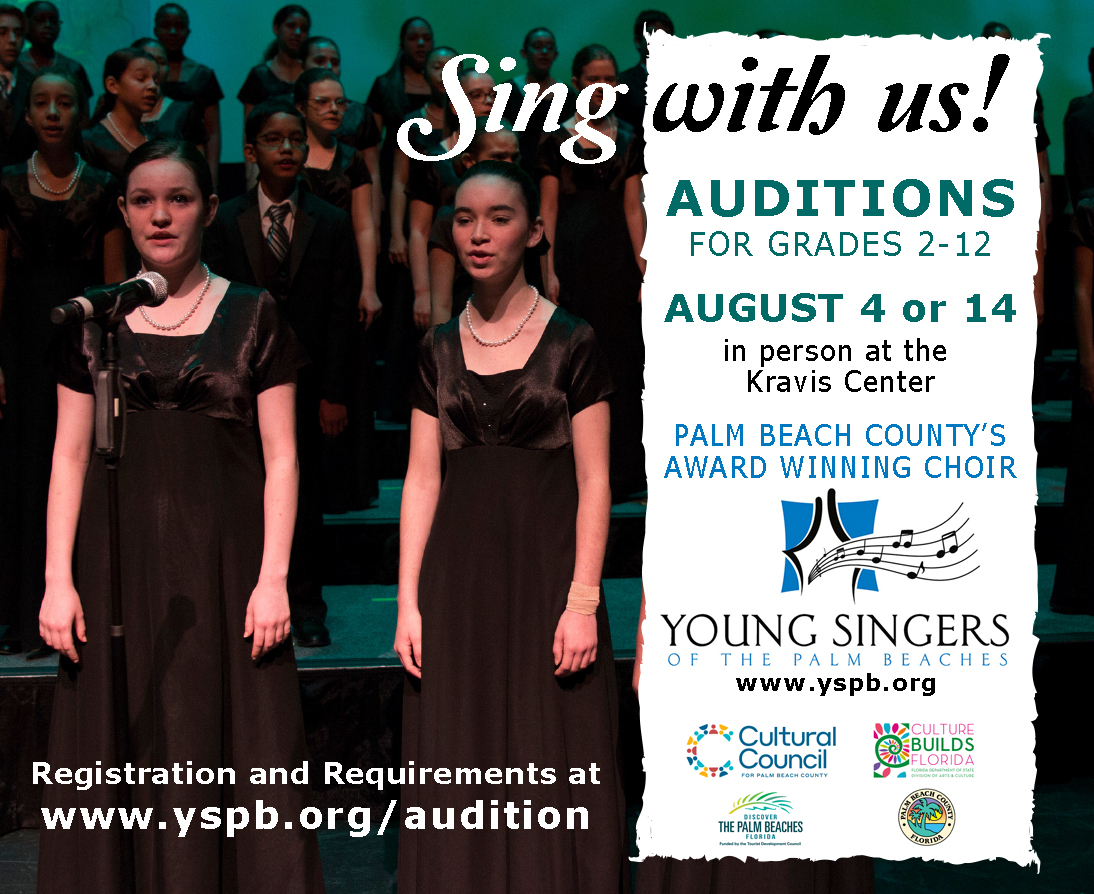 We are proud to present the Young Singers of the Palm Beaches as a sponsor of Macaroni Kid Palm Beach Gardens-Jupiter.